| | |
| --- | --- |
| Get Help Finding a New Talent | Get Help Finding a New Opportunity |
​
​
​Are you looking to progress your career and become a Chief Operating Officer? Becoming a COO is an exciting opportunity, but it also requires hard work, dedication, and the right skill set.

What is a COO and What Does the Job Entail?
As with most positions in a company, no COO's role is the same, with duties varying according to the firm's size and ambitions. However, a COO is typically responsible for a company's daily operations and is second in command after the CEO. The Responsibilities of a Chief Operating Officer
Whilst the CEO acts as the face of the company, it is the COO's responsibility to oversee the financial and operational departments, such as finance and accounting, IT, customer service, sales, marketing, and manufacturing. The COO also has to ensure that the organisation meets its goals, and strategies by developing and implementing the right policies and procedures.

The Responsibilities of a Chief Operating Officer
So what are the essential responsibilities of a COO? The best COO's keep up with new developments in their industry and ensure their team is knowledgeable about current trends and technologies. While it is not required of a COO to be skilled in programming such as Python, it may be an advantage. Ideally, one should be able to analyse data quickly in order to make informed decisions about how best to use resources for maximum return on investment (ROI). Ultimately, a successful COO will also be able to keep up with technological changes in order to ensure that the company is following best practices when it comes to data security as well as innovation and keeping up with their competition. Whilst technical skills are key in a COO's role and particularly in progressing through the ranks, a successful COO must also have excellent communication skills. The role involves liaising with internal and external stakeholders as well as ensuring the members of the firm are kept motivated.

Again, it is critical to emphasise COO's varying range of duties. Here are a few snippets from the people themselves: ​
"Involved in product innovation, B2B, establishing partnerships with big banks, covering legal aspects and everything operations" - COO, Financial Services firm
​"My role in the leadership team is to acquire users onto the digital platform and I play a core strategic role working with VPs to deploy product" - COO, Financial Services firm
​"Covering all data, tech and risk, but more recently I'm working in a more commercial focused role involving sales and marketing" - COO, Financial Services firm
​
With this in mind… How does one become a Chief Operating Officer?
​
Any Tips for Preparing for a COO Role?
It is critical to gain experience in various areas of business operations when preparing for a COO role. Consider taking on roles in different departments or industries to learn about how companies operate. Additionally, take advantage of any educational opportunities that are available. Attending conferences or taking lessons in new skills will help you gain a better understanding of business operations. To reach a C-Suite position, ensure that you are expanding your network of contacts in the industry who can provide advice or new opportunities to help you grow within your field.

Potential Routes to Becoming a COO
There is no typical career path to reaching a leadership position such as COO, however, here are some potential routes:
After gaining enough experience in various departments or industries, you can then begin applying for positions such as VP of Operations or Director of Operations which will give you more managerial responsibilities. Once you have several years of successful management experience, you can then apply for a position as COO.

A quick route to COO may involve joining a start-up or founding your own company.

Following industrial experience you may want to get your MBA or another advanced degree from an accredited university. This could set you apart from others giving your both working knowledge as well the leadership skills needed to lead operations.
​
The Importance of Networking in The COO Position
Networking is essential when it comes to advancing your career as a COO. Reaching out to a range of individuals can help you broaden your professional circle, giving you access to potential job opportunities as well as insight into industry trends that can help your firm remain competitive. Furthermore, networking with like-minded professionals allows you to share best practices and gain insight into the strategies of other organisations.
Of course, it is no easy feat to become a Chief Operating Officer. It requires perseverance, dedication, strategic thinking and the right knowledge and experience.

Qualifications Needed
As mentioned earlier different firms have different expectations of their leaders. Depending on the company, certain qualifications may be required or at least preferred. To reiterate, these include around ten years of related experience in management or operations roles, an MBA or strong academic background. But ultimately, it is dependent on the individual and the firm.
​
Salary Expectations
​

​
Glassdoor - COO average salary outside of London and Financial Services
​
​

​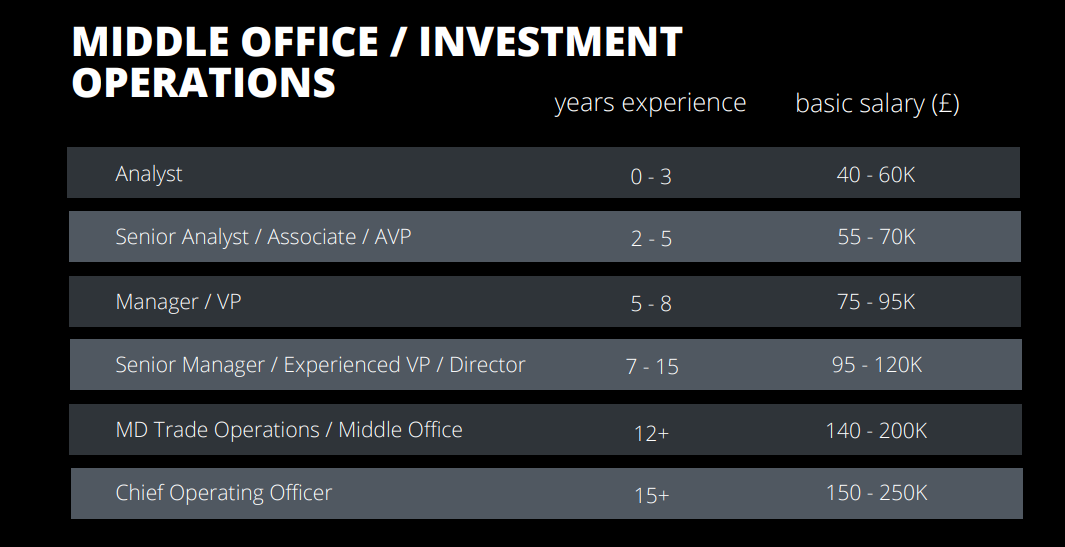 Rutherford Search, Operations Salary Survey (Alternative Investment Managers)

​
What Makes a Good COO?

Becoming a Chief Operating Officer can be an exciting career move but it is not one to be taken lightly – it requires dedication and hard work in order to succeed. By understanding what is expected from you in terms of qualifications and experience throughout your journey towards becoming a COO, you can better prepare yourself for success!
​​
Contact
Whether you are seeking your next career move within operations or are looking for support with your finance and business operations recruitment, Rutherford's specialist business operations consultantsare here for you. Get in touch with our specialist today for a confidential conversation.
​
​
Looking to hire risk, strategy or operations specialists into your team? Get in touch with Rutherford's operations, risk and strategy Recruitment Consultants today.
​
​
​