Importance of Compliance in Business
Compliance plays a crucial role in the success and sustainability of businesses. It ensures that organizations adhere to legal and regulatory requirements, industry standards, and ethical practices. By maintaining compliance, businesses can mitigate risks, avoid legal penalties, and protect their reputation.
Compliance also promotes transparency, accountability, and fairness in business operations, fostering trust among stakeholders such as customers, investors, employees, and the public. Furthermore, compliance safeguards against fraud, corruption, and data breaches, enhancing data privacy and security.
Ultimately, a strong culture of compliance instills confidence, enables growth, and contributes to the long-term viability and integrity of businesses in an increasingly complex and regulated global marketplace.
​
Different Types of Compliance
Compliance can be categorized into various types, each with its specific focus and importance for businesses.
Financial compliance pertains to adhering to financial laws, regulations, and standards, such as financial reporting requirements, tax obligations, and anti-money laundering measures. It ensures accurate and transparent financial information, prevents fraud, and builds investor confidence.
Regulatory compliance involves conforming to industry-specific regulations and standards set by governmental bodies or professional associations. These regulations can cover areas such as safety, environmental impact, product quality, and licensing. Regulatory compliance ensures legal compliance, minimizes risks, and protects consumers and the environment.
Data privacy compliance centers around safeguarding personal and sensitive information collected and stored by businesses. It involves compliance with data protection laws, such as the General Data Protection Regulation (GDPR) in the European Union. Data privacy compliance is crucial for protecting customer privacy, maintaining trust, and avoiding data breaches and associated legal consequences.
Each type of compliance is important for businesses because they help maintain legal and ethical operations, mitigate risks, protect stakeholders' interests, and preserve the organization's reputation.
​
The Compliance Industry
​The compliance space has seen many changes over the years. In the early days of financial compliance, the function was more of an afterthought than an actual, regulated department. Back then, whoever put their hand up at the back of the room became the compliance officer.
But then, regulatory oversight and enforcement saw a massive increase, meaning firms were getting fined more and more for not properly addressing compliance.
From fields of study to desirable skills, discover below what it takes to properly take on the role.
​
How Did The Compliance Officer Role Emerged in The UK?
The FCA's increase in regulatory management forced what used to be a designated role without true meaning, to become a proper profession, requiring specific experience, skills, and education. Although, theoretically anyone can be a compliance officer.
​
The Regulatory Landscape and its Impact on The Compliance Field

Regulatory landscapes can be incredibly complex and dynamic, changing quickly over time due to new laws, technology advancements and industry trends. Understanding the regulatory landscape, and how it impacts the compliance field, is very important in today's world.
Compliance professionals are tasked with staying updated on regulations, decrees and orders that could affect their organization. By having knowledge of the specifics of the various jurisdictional laws and legislation, companies can ensure that they remain compliant and avoid significant penalties. Understanding the nuances of these constantly changing regulations is paramount for compliance professionals, as it allows them to assess risks or trends that may occur in the future. To keep up with the complexities of this ever-changing field, staying abreast with the latest news and information is key, ensuring a streamlined process for avoiding any violations or charges.
​
What Experience do You Need to Become a Compliance Officer?
In practice, compliance officers traditionally come from legal or finance backgrounds with associated degrees.
It is increasingly competitive to get into this sector as it is seen as an attractive career, but they can still hail from diverse backgrounds and regulatory departments are increasingly seeking complementary technology and data skills.

​
​How to Start a Career as a Compliance Officer?
In the United States, compliance officers are usually lawyers, whereas the culture in the UK is more of a broad church.
Some of the best junior candidates in the UK are now coming from graduate compliance programs at large institutions, where they can undertake rotations in different departments, similar to trainee solicitor schemes.
If a compliance officer wishes to hold a Senior Managers Certification Regime (SMCR) role at a financial firm, then more rigorous tests are applied to judge their capabilities.
Below is a graph made by the ICA as a result of a survey of Chief Compliance Officers in 2019, asking how they came to be a Compliance Officer:
​

​
​
Are Professional Compliance Qualifications in The UK Necessary?
Other methods of reskilling into the role are by undertaking compliance officer qualifications and courses by recognized specialist compliance education providers, like the International Compliance Association (ICA), Chartered Institute for Securities and Investment (CISI) or the Association of Certified Anti-Money Laundering Specialists (ACAMS).
The compliance officer qualifications offered by these organisations are quite accessible and affordable. It helps to have background knowledge of law or finance, but it is not necessary.​
​
The Specific Qualifications, Certifications and Courses Available for Compliance Officers
If you're thinking about launching a regulatory career, there are several certifications and compliance officer qualifications that could give you a competitive advantage when applying to compliance roles.
In addition to foundational compliance certifications such as Certified Regulatory Compliance Manager (CRCM), Certified Financial Services Auditor (CFSA), and Banking Information Security Certifications (BISF), many positions require compliance officers to hold some kind of degree or higher-level qualification.
A degree in compliance, business administration, finance or law can be extremely helpful when it comes to landing a compliance position in an organization. Aside from formal classes and academic qualifications, it's also important for compliance officers to stay up-to-date on current regulations in their industry and attend educational courses held by government agencies.
Ultimately, the more specialized qualifications an aspiring compliance officer can showcase to potential employers that demonstrates they're equipped with the skills needed for the role, the more valuable they will be considered.
​
How to Be an Effective Compliance Officer
Being a compliance officer can be a demanding job and it can be tough to keep on top of regulatory/legal change. The ability to stay on top of things and to manage people well are hallmarks of a good compliance officer. They need to be there for the front office staff, but also for the C-suite, especially when operating as a Chief Compliance Officer, General Counsel or Chief Operating Officer.
​
Required Skills
Broader Business Acumen (Product & Technology Knowledge)

Interpersonal Skills & Communication

Problem Solving

Attention to Detail

Niche Candidates
​
Attributes
High Ethical Standards & Integrity

A Strong Constitution (Backbone)

Strategically Minded

Analytical

Adaptable
​
Below is a graph of what skills come in most handy on a daily basis for Chief Compliance Officers:
​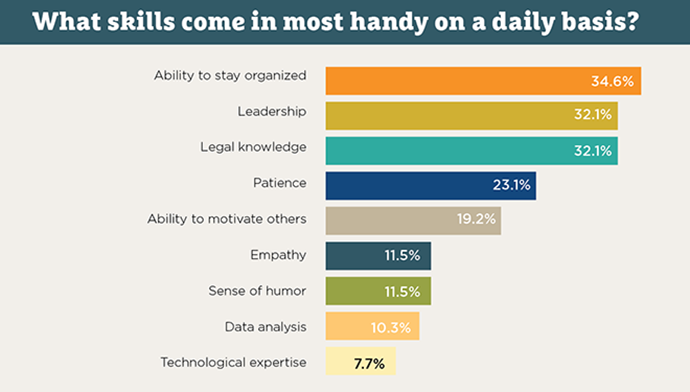 ​
​
As time moves on, skill sets will change; but the general emotional requirement to have a strong 'backbone' to challenge peers and figures of authority seems likely to stay.
​
The Day-To-Day Responsibilities of a Compliance Officer: Including Risk Management and Enforcement
​Compliance officers have a wide variety of duties, all centering around minimizing the risk of legal non-compliance and enforcing applicable laws.
On a daily basis, they are responsible for creating and updating procedures to comply with local and federal regulations, reviewing employee practices for regulatory compliance, handling complaints about compliance violations, training staff on the organization's compliance policies, and preparing reports outlining changes in procedure.
Compliance officers also need to be well-versed in industry trends and upcoming legislation which could affect their organization. Moreover, they assess existing risks and suggest strategies to create effective processes within their organization.
It is important that every compliance officer possesses good organizational skills and is able to quickly adjust plans to fit business needs as things change over time.
​
The Current Job Market and Future Outlook For Compliance Professionals
The current state of the compliance job market is strong and shows no signs of slowing down. With new compliance regulations being implemented constantly, businesses are in need of compliance professionals who can help them navigate the ever-changing landscape.
The future for a career as a compliance professional is bright, as there is a growing demand for their skillset. Compliance professionals who keep up with the latest changes and trends will be in high demand by employers.
​
Thinking About Becoming a Compliance Officer in London?
If you need help with finding your next career move, Rutherford's compliance recruitment team will gladly support you in your journey. From our Free CV Format for Legal and Compliance specialists to our Consultants' extensive knowledge of the compliance recruitment industry within the financial services space, we are here to assist you no matter what your needs are.
​
​
Contact
Felix Blumer is a Legal Consultant at Rutherford, the executive Legal and Compliance recruitment specialists.
Contact us for a confidential search, email us at enquiries@rutherfordsearch.com or see our latest vacancies.
Email: felix@rutherfordsearch.com
​
​
About Rutherford
Rutherford is a boutique search firm that specialises in legal, financial crime and compliance recruitment within the financial services and legal sector, with London and New York being the main focus. We use our carefully curated relationships, networks and market knowledge to find the best fit for the clients in hand. We work with a wide range of clients, spanning from advisors, corporate and commercial banks, brokers, exchanges, MTFs and financial tech, through to global investment managers, hedge funds, private equity firms and investment banks.