​
The Compliance Industry
​The compliance space has seen many changes over the years. In the early days of financial compliance, the function was more of an afterthought than an actual, regulated department. Back then, whoever put their hand up at the back of the room became the compliance officer.
But then, regulatory oversight and enforcement saw a massive increase, meaning firms were getting fined more and more for not properly addressing compliance.
From fields of study to desirable skills, discover below what it takes to properly take on the role.
How to Become a Compliance Officer in The UK?
The FCA's increase in regulatory management forced what used to be a designated role without true meaning, to become a proper profession, requiring specific experience, skills, and education. Although, theoretically anyone can be a compliance officer.
​
What Experience do You Need to Become a Compliance Officer?
In practice, compliance officers traditionally come from legal or finance backgrounds with associated degrees.
It is increasingly competitive to get into this sector as it is seen as an attractive career, but they can still hail from diverse backgrounds and regulatory departments are increasingly seeking complementary technology and data skills.
​What Degree do You Need to Become a Compliance Officer?
In the United States, compliance officers are usually lawyers, whereas the culture in the UK is more of a broad church.
Some of the best junior candidates in the UK are now coming from graduate compliance programs at large institutions, where they can undertake rotations in different departments, similar to trainee solicitor schemes.
If a compliance officer wishes to hold a Senior Managers Certification Regime (SMCR) role at a financial firm, then more rigorous tests are applied to judge their capabilities.
Below is a graph made by the ICA as a result of a survey of Chief Compliance Officers in 2019, asking how they came to be a Compliance Officer:
​
​

​
​
Are Professional Compliance Qualifications in The UK Necessary?
Other methods of reskilling into the role are by undertaking compliance officer qualifications and courses by recognized specialist compliance education providers, like the International Compliance Association (ICA), Chartered Institute for Securities and Investment (CISI) or the Association of Certified Anti-Money Laundering Specialists (ACAMS).
The compliance officer qualifications offered by these organisations are quite accessible and affordable. It helps to have background knowledge of law or finance, but it is not necessary.​
​
How to Be an Effective Compliance Officer
Being a compliance officer can be a demanding job and it can be tough to keep on top of regulatory/legal change. The ability to stay on top of things and to manage people well are hallmarks of a good compliance officer. They need to be there for the front office staff, but also for the C-suite, especially when operating as a Chief Compliance Officer, General Counsel or Chief Operating Officer.
​
Required Skills
Broader Business Acumen (Product & Technology Knowledge)

Interpersonal Skills & Communication

Problem Solving

Attention to Detail

Niche Candidates
​
Attributes
High Ethical Standards & Integrity

A Strong Constitution (Backbone)

Strategically Minded

Analytical

Adaptable
​
Below is a graph of what skills come in most handy on a daily basis for Chief Compliance Officers:
​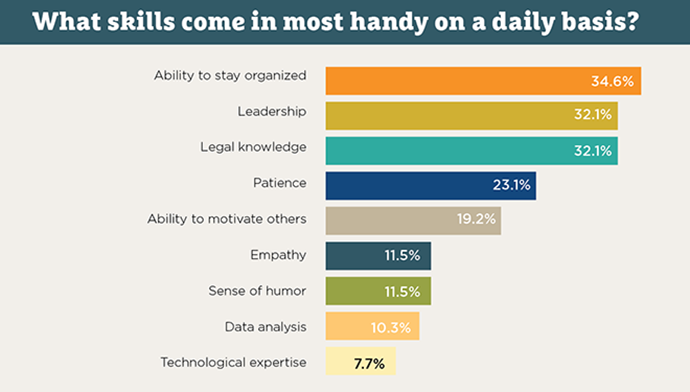 ​
​
As time moves on, skill sets will change; but the general emotional requirement to have a strong 'backbone' to challenge peers and figures of authority seems likely to stay.
​
Thinking About Becoming a Compliance Officer in London?
If you need help with finding your next career move, Rutherford's compliance recruitment team will gladly support you in your journey. From our Free CV Format for Legal and Compliance specialists to our Consultants' extensive knowledge of the compliance recruitment industry within the financial services space, we are here to assist you no matter what your needs are.
​
​
Contact
Felix Blumer is a Legal Consultant at Rutherford, the executive Legal and Compliance recruitment specialists.
Contact us for a confidential search, email us at enquiries@rutherfordsearch.com or see our latest vacancies.
Email: felix@rutherfordsearch.com
​
​
About Rutherford
Rutherford is a boutique search firm that specialises in legal, financial crime and compliance recruitment within the financial services and legal sector, with London and New York being the main focus. We use our carefully curated relationships, networks and market knowledge to find the best fit for the clients in hand. We work with a wide range of clients, spanning from advisors, corporate and commercial banks, brokers, exchanges, MTFs and financial tech, through to global investment managers, hedge funds, private equity firms and investment banks.