Rutherford Consulting is a leading provider of interim recruitment solutions and compliance consulting across the Financial Services industry. With a team of experienced professionals and a focus on delivering bespoke solutions, Rutherford Search Consulting is delivering excellence across Talent Acquisition and Compliance Consulting.
Whether you are looking for a critical hire, ensuring a project delivery, or simply looking for a regulatory health check, Rutherford Consulting has the talent and expertise to meet your business needs.
​
​
​
​
Why Use Contractors and Consulting Services?
​
None of us are immune to economic challenges. Budgets squeeze, demands increase and the struggle for top talent remains. To mitigate this, Rutherford Search Consulting can provide access to market-leading consultants and contractors that give you the support you need without the long-term commitment of a permanent hire. Contractors and consultants offer you that 'hit the ground running' mentality you need, without the associated cost and process it requires.
​
Premium Expertise Without the Premium Rate
Household consultancies use our talent, for several times the price. We bring you the talent, with rapid delivery, at a fraction of the cost. Why not explore a bench full of talent, without the extensive delivery process.
​
Swift Deployment and Ease of Process
From agreement of contract, to signing of terms and eventual project delivery, the process of engaging with bigger brands can be a lengthy one. By comparison, Rutherford Consulting can deliver a team of consultants to your business in as little as 48 hours. We can do this whilst ensuring a level of knowledge and expertise which will be sure to meet your business needs. Our projects are led by our compliance partners, supported and upscaled by our talent delivery teams.
​
Bespoke Solutions
Rutherford Consulting works with industry leading experts across Compliance and Financial Crime. Whether you're a start-up looking to upscale and apply for your license, or a bank looking for a strategic compliance review, Rutherford Consulting can match you with a consultant or team of advisers to best suit your needs.
​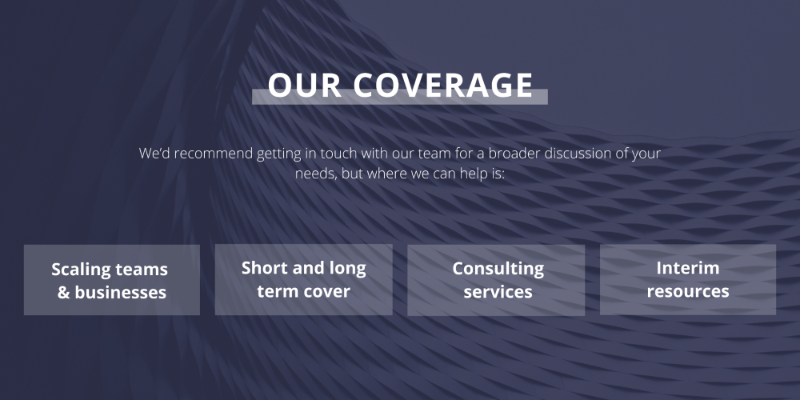 ​
A Few Words From a Client:

"Their compliance recruiters are proactive and reliable, invested in understanding and meeting our needs as a client and, most importantly, they are able to find and suggest great candidates which meet our specific briefs. The quality of service and candidates that we have received has always been high and this is indicative of Rutherford's well-deserved reputation in the market." - Global Head of Compliance, FTSE 250 Asset Manager.
​
What We Can Offer Your Business
​
A Few Examples:
Scaling Teams/Businesses
Resource and delivery to outfit teams and businesses with the best talent available.

Rapid search and deployment to mitigate concerns around high demand periods
Short and Long Term Cover
We can provide flexible and cost effective cover for your teams, with consultants who can 'hit the ground running' and pick up where needed in your business.
Interim Resource
Rutherford Consulting can provide you with access to market of contractors with a track record of delivery on projects as well as support on any BAU requirements.
We offer competitive rates with top end search and delivery functions.

Matched consultants to ensure that your projects and needs are serviced in the most appropriate way.

For a list of roles that we have covered recently, please see here.

For a list of sectors we cover, please see here.
Consulting Services
Bespoke design and delivery of a team of consultants to take care of your regulatory needs.

Market leading rates with best in class expertise.

Flexible contract options.

Dedicated talent partner to ensure project delivery.

IR35 compliant.
​
What Can Our Consulting Look Like
Rapid deployment of an individual or team of experts to provide a solution to your compliance challenges. Some examples of which may be:
Remediation and s166 support

Compliance training for senior management

Compliance and regulatory health checks

Large scale file review

Project implementation

Strategic Compliance Review
​
Meet Our Team
​

​

​

​

​

​

Michael Cunningham
Head of Contract & Consultantcy
e: michael@rutherfordsearch.com
t: (0)20 3778 0309

Siena Clarke
Delivery Consultant
e: siena@rutherfordsearch.com
t: (0)20 3137 4187

Jackson Baker
Business Director
e: jackson@rutherfordsearch.com
t: (0)20 3778 0771
​​
For more information please get in touch with our Head of Contract and Consultancy, Michael Cunningham.
​
​
Interested in joing our bench? Submit your CV below.
​
​
​
Interim Resource We've Serviced
Interim Financial Crime Lead






Financial Crime Consultant


Risk & Compliance Consultant


Interim Head of Financial Crime


Interim Head of Compliance




Regulatory Change Consultant




​Contact
Looking for specialised and well-regarded contract search firm in the UK?
Get in touch today with Michael Cunningham, Head of Contract and Consultantcy.
of permanent placements made in the last two years are still in position
of our searches have been exclusive or retained in 2020
success rate on exclusive mandates in 2020
of our placements in 2020 were from a diverse background
Contract & Consultancy consultants
​Rutherford was unreal. Recruitment does not have a great rep in my opinion with a number of folks within the sector making everyone look bad for many reasons.
Rutherford was different they worked as if it was their last placement ever. Produced more than any other agency I have ever worked with. Credit to them.
Head of Information Security, Software Company
​Rutherford sends strong candidates, they have a good conversion rate, represent us well, follows instruction and are generally really pleasant to deal with.
Experienced Hire Recruitment, Quantitative Trading Firm
​Rutherford was v easy to work with, adapted to my schedule and messaging preferences and helped to prep me for the interview.
Technology, Quantative Trading Firm
I have worked with Rutherford on a number of compliance and legal searches over the years.

They have consistently helped recruit top quality individuals into the firms I have worked for. Their knowledge of the market is fantastic and, importantly, they spend time getting to know the vacancy and the firm to ensure that they put forward the right candidates.

Highly recommend their compliance recruitment firm.
COO, TT International
​There aren't enough words to express my sincere gratitude and thanks to Rutherford for their assistance in helping me land an amazing role at a phenomenal private equity firm.

Rutherford's Compliance recruitment consultants were friendly, proactive, encouraging, and extremely helpful in guiding me through the recruitment process. I never once chased them and was consistently on the receiving end of calls, getting regular updates on the progress made. They kept an open and honest line of communication and spent a considerable amount of time prepping me at each stage of the process.

Their technical knowledge coupled with their down-to-earth personality makes Rutherford undoubtedly an amazing choice of a compliance recruitment firm if you're considering a career move in the legal or compliance sectors.
Compliance Associate, Leading European Private Equity Firm
​During the time I have known Rutherford, their compliance recruitment team have shown a combination of efficiency, consistency and a frankness which is rarely found amongst their competitors. I have been consistently impressed by my compliance headhunter's attitude whenever we have interacted. He was very encouraging and patient, just a genuinely nice person too. Would highly recommend him and Rutherford, and will be eternally grateful to them for helping me secure a role at my dream firm.
Compliance Director, Generation Investment Management
Rutherford's compliance recruitment team knows the market extremely well. They know all the players in the space and can speak to each's professional history and personality. They are very open and honest when communicating roles as well as any feedback a firm has after reviewing your resume or an interview. They always make a case for their clients and are extremely thoughtful in the roles they put you up for. Without them, I wouldn't have been able to move to London! I would recommend them to any colleague or friends in the Compliance space.
Vice President - Compliance, SoftBank Investment Advisers
​Working with Rutherford was an absolute pleasure, helping me secure my new position. They were very responsive and gave a lot of support throughout each stage of the recruitment process.

I would definitely recommend their compliance recruiters to those seeking a professional move!
Compliance Professional, Lansdowne Partners
I approached Rutherford in September 2020 looking for a new role and they couldn't have been more attentive. They kept me updated, ensured clear communication through the process - from introduction to offer - and ensured I moved to the best opportunity. The team is highly attentive and hard working.
Control Room Analyst, Citadel
​We have worked with Rutherford Search on a number of occasions to find candidates for regulatory/compliance positions and I've always found their London compliance recruitment team to be professional and helpful. They've done a great job of helping us find the best possible candidates and we have always been very pleased with the service offered.

Their compliance recruiters is proactive and reliable, invested in understanding and meeting our needs as a client and, most importantly, they are able to find and suggest great candidates which meet our specific briefs. The quality of service and candidates that we have received has always been high and this is indicative of Rutherford's well-deserved reputation in the market.
Global Head of Compliance & Regulatory, FTSE 250 Asset Manager
​Rutherford recently placed me into my future role. At all stages of the recruitment process, they has been extremely positive, has provided excellent guidance with regards to interview preparation, and ensured I was kept up to date with news from the company throughout the selection process, providing timely feedback after the end of each stage. They have been an absolute joy to work with, and if you are looking for a new Compliance role, I can't recommend them enough!
Financial Crime Manager
Having worked in the interim MLRO/Financial Crime market for more than 10 years, I have worked with a number of recruiters and sourcing agencies. However, amongst them I found Rutherford to be more professional than most I have encountered.
​
I have no hesitation in recommending associates to contact them if they are looking to recruit, as I am at times when in an interim role, or if they are looking for AML or other financial crime roles in the financial services sector.
Interim MLRO, DNB
​Having made two excellent Compliance hires for our firm in London, Rutherford will be my go-to recruitment partner in the future. They fully understood our briefs and the culture they were recruiting for, which made the process efficient and transparent. My candidates were also happy with their interactions with the team, which were professional yet friendly. It was a pleasure working with them, and they would be the first firm I would recommend to others embarking on a recruitment process.
Chief Legal Officer, Eton Park International LLP
​Rutherford was instrumental in assisting Liquidnet Europe Limited in our search for a Head of Regulatory Compliance and Legal Affairs. They presented a selection of candidates with a range of experience. Each CV was a match to our requirements and to our cultural fit. This was no small feat considering the hybrid legal and compliance profile we were seeking. In the end, each area of our spec was met and the incumbent in the role is settling in nicely.
Subsequent to this search, Rutherford has also placed a contract surveillance person - again, superb match of skills to spec. The Rutherford team is personable, responsive and I highly recommend their services.
Head of HR - Global Talent Engagement, Liquidnet Europe Limited